US premiere in Manhattan for Award-winning Australian Documentary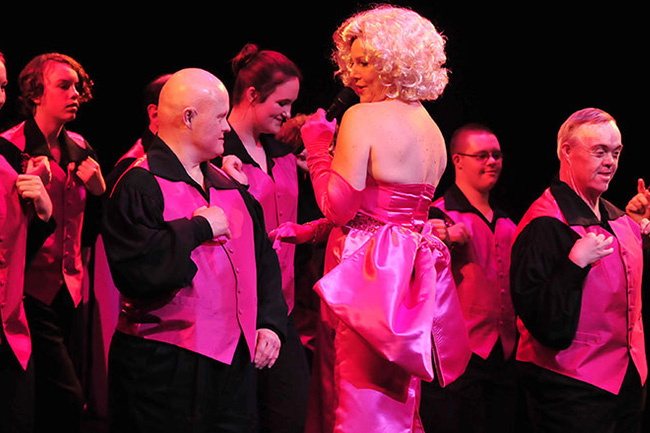 US premiere in Manhattan for Award-winning Australian Documentary
SYDNEY, 1 November, 2007
The Music in Me – the debut documentary feature by Sydney filmmakers, Nigel Traill and Anne Kenyon will have its U.S. premiere at the influential New York/Avignon Film Festival this month.
Lisa Nesselson, European film critic for Variety has called the film"A portrait of sheer human decency in the face of adversity… it's hard to imagine a halfway thoughtful TV programmer – or audience – that wouldn't warm to the heartache and triumph captured here." 
At its world premiere in June, The Music In Me was awarded the prestigious Prix Pierre Salinger Award for Best Documentary at the 24th Annual Avignon Film Festival – the first time an Australian film had been screened in the history of the event.
The Music in Me tells the profoundly moving story of the Merry Makers – a unique dance troupe based in Sydney comprising 70 dancers with some intellectual or physical disability who dance their way into the hearts and minds of all who see them perform. During the 63-minute documentary feature, the dancers and their families are filmed with engaging tenderness, empathy and candour as they prepare for the biggest show of their lives – a sell-out concert at Sydney's Entertainment Centre.
Fresh from their presentation of The Music In Me at the Montreal World Film Festival in September, producer Anne Kenyon and Merry Makers' Artistic Director Lucinda Bryant will again travel from Australia to North America to attend the film's screenings in New York on Sunday 11th & 18th November.
Acknowledging the remarkable effect that the Merry Makers have had on audiences, Lucinda Bryant said  "I will never forget the tear-stained faces of audiences in France and Canada that line up to thank us for encouraging and enriching the lives of people with disabilities."
2008 promises to be an equally busy year with official selections and screening invitations already confirmed for film festivals in the USA (Lone Star International Film Festival, Sedona International Film Festival), Norway (WT Os International Film Festival), Italy (Cinema Senza Barrier, Milan) and UK (Swansea Bay Film Festival Wales).
Merry Makers Australia
Donations
Donations over $2 are Tax Deductible
Address
PO Box 365,
Wahroonga NSW 2076