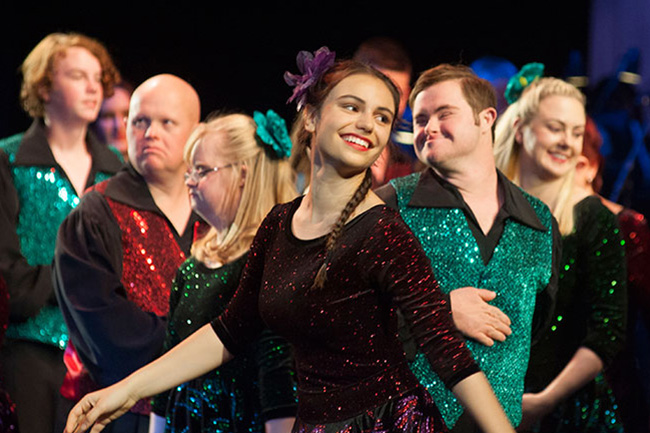 Community Dance Programs
Thousands of children, adults and their families across Australia, we know, would love to be involved in a dance program like the Merry Makers. After our documentary The Music In Me aired on ABC TV and our book Love Is In The Air was published, we received floods of inquiries from people longing for a similar experience.
It's always been our dream that every person with a disability, no matter where they live, be able to participate in an organisation such as ours. Yet as a voluntary organisation, we knew there was no way we could take on the mammoth task of setting up similar bodies wherever there is a need, however much we'd like to.
Instead, however, we can encourage and support people taking our example and establishing their own form of dance program within their community. The structure and format may vary depending on local needs, for instance within Special Schools, within existing local dance schools as an additional class structured for people with disabilities, or, like with Merry Makers, in a community hall with the support of parents and volunteers.
In 2008, Merry Makers Australia received funding from the Sydney Community Foundation to assist with this project. This generous grant was made from the Neil Cocks and Kellan Kent subfund which was established in memory of Neil and Kellan to assist children with learning disabilities.
Master Classes have been held bringing together all interested parties from the wider Sydney metropolitan area and beyond.  Using our extensive waiting list, parents, students, teachers and volunteers are invited to watch an on-stage rehearsal followed by a performance of favourite dances in costume. Additionally, we have undertaken trips to perform and conduct Master Classes in South Australia in association with Foundation 21, Tasmania for Down Syndrome Tasmania and also in Brisbane.
As successful performers with disabilities, the Merry Makers are outstanding role models and the impact of the Master Classes is always overwhelming.  Many parents in the audience watch, moved to tears by the emotion, as their children join the Merry Makers to dance on stage.
Merry Makers Australia will continue to work with individual groups to help with the establishment of community dance programs and we are extremely proud to provide the following links:
A gift "starter pack" including red and blue wristbands to help everyone tell their right hand from their left – introduced by the Founder of Merry Makers, Rosemary Marriott AM, and still used today – is given to each group using the Marriott Method of "red for the right" and "blue for the left" as part of their dance teaching programs.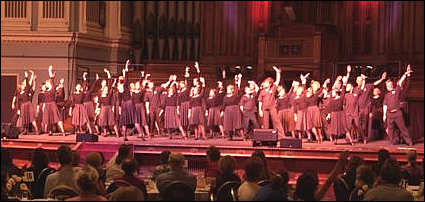 A Merry Makers' Master Class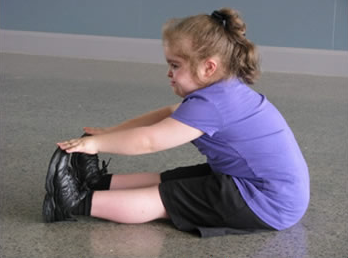 Georgie Rose at her first dance class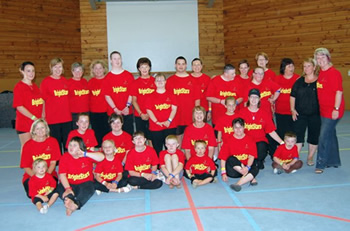 The Devonport BrightStars
Merry Makers Australia
Donations
Donations over $2 are Tax Deductible
Address
PO Box 365,
Wahroonga NSW 2076